Def Leppard 2017 US tour ticket sales started!
Def Leppard officially launched ticket sales for their 2017 US tour with Poison & Tesla on January 20 and 21.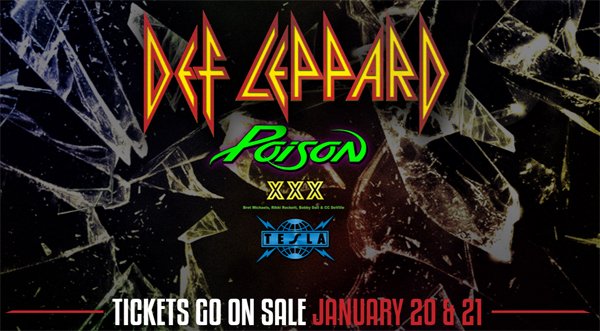 The cheapest tickets for Def Leppard 2017 concerts start at around $50-60 but the prices vary a lot depending on the venue.
Def Leppard are set to visit 38 cities across the US and Canada to satisfy a huge demand for their concerts including the venues the rock band missed last year. One of the world's top rockers will hit the road starting the 2017 North American tour at in Manchester, NH on April 8.
Devoted members of Def Leppard fan club were allowed to secure their seats and VIP Meet & Greet packages through the pre-sale campaign on January 17th.
"We're thrilled to be able to take this tour to cities we didn't play in 2016," Joe Elliott was quoted as saying earlier. "The demand for us to return, or rather extend the tour was phenomenal! There's a great buzz around the band right now and we're loving the fact that we can do this with the latest album being so well received."
Def Leppard were touring with Poison in 2009 and 2012 while Tesla were again invited as special guests following a huge success last year.
"I could not be more excited. I know all of us will give one thousand percent on stage and we are looking forward to performing our hits together. I personally could not be more thankful for the three generations of fans and I love the music of Def Leppard and Tesla. This will be an amazing night of rock and roll.", Poison headliner Bret Michaels said.
Being one of the best-selling rock bands of all time, Def Leppard continue to storm the music industry with the fresh hits like "Dangerous" and "Let's Go". These songs from their most recent self-titled album were rated #1 on the Billboard Top Rock Albums Chart.
By the way, it will be the first time in over five years that Poison are going on tour with the original line-up including Bret Michaels, Bobby Dall, CC DeVille and Rikki Rockett.